Focus on the science instead of the pain
Let's face it, pipetting takes stamina and precision. If your body is uncomfortable or worse yet, in pain, both are compromised and your accuracy will suffer, not to mention your health.
To be ergonomically correct, real differences in traditional pipetting postures are crucial – like minimizing awkward wrist positions, keeping a low arm and elbow height, and relaxing the shoulders and upper arms. This is virtually impossible when using pipettes with elongated, completely vertical axial designs. Simply decreasing button pressure or changing a grip doesn't make a pipette ergonomic – an entirely different type of device design is needed in order to truly minimize the risk factors so common with traditional pipettes.
Ovation® M is a pipette like no other! It has the easy mechanical operation that you're familiar with but with unique design features to significantly reduce repetitive strain injury (RSI).
Better for your health and better for your work. Maximize your comfort and accuracy!
Ovation M Micropipette

Features and Benefits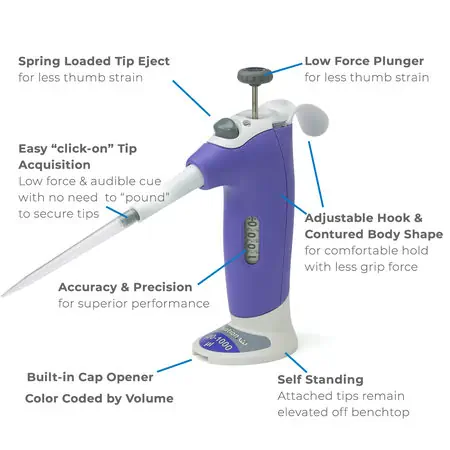 Key Ovation M Ergonomic Features:
Reduce hand and grip stress:
• Unique contoured body shape to be held comfortably
• Adjustable hook to "hang" on your hand for feather-light feel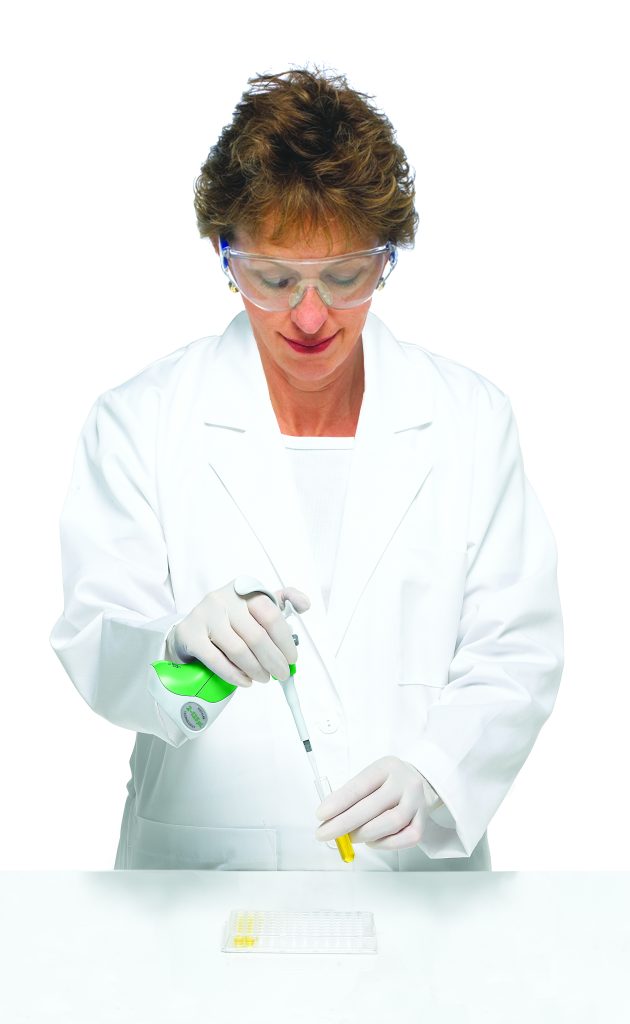 Reduce wrist pain with angled (non-vertical) pipette orientation:
• Lower arm position
• Natural wrist rotation
Reduce thumb force and stress:
• Low force plunger action
• Easy "click" tips on and spring-loaded "flick" tips off
Stop putting up with the pain of traditional axial pipettes. "Pounding" tips to secure them onto your pipette is unnecessary and causes additional strain on your hand and arm.  Eliminate thumb pain from using excessive force during tip ejection. Stop the "this is how it's always been" and "everybody does it" attitude. Save yourself from RSI with Ovation M mechanical, ergonomic micropipette from VistaLab. We design products for your health so you can focus on the science.
---
You Deserve a Standing Ovation
Ovation Mechanical
Put Ovation to work for you! Ovation M is available in 6 volumes, color coded for easy identification. Self-standing for easy pickup and no risk of tip contamination if attached.
---
Testimonials
---
Learn more about the entire Ovation line:
---
Free Ovation Trial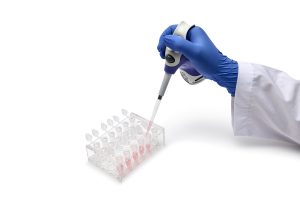 Feel the difference, we provide a free Ovation trial so you can experience and test all of the Ovation features and benefits right in your lab for 2 weeks, and we pay for shipping both ways. Try one and you'll feel the difference!
---
Current promotion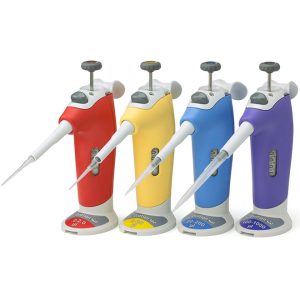 Take advantage of our current buy 3, get 1 free promotion.