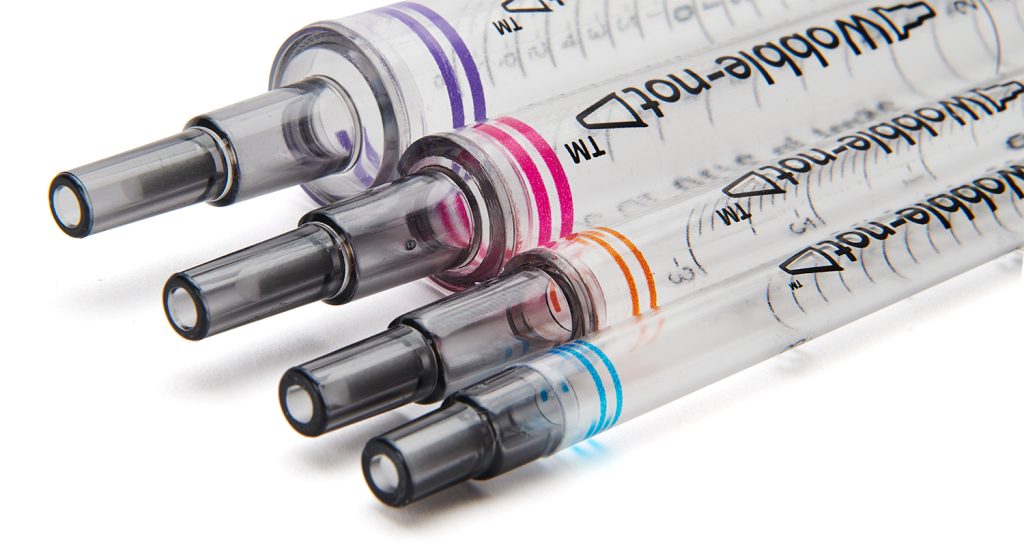 Serological pipets are practically ubiquitous in research labs. Do you use serological pipets every day? If so, do you find yourself thinking "drip happens" more often than you'd like? Does the worry of dripping affect your work? Well, you can alleviate worry when pipetting with Wobble-not™ serological pipets.
Wobble-nots lessen worry of:
Strain in your wrist from constant jamming
Drops that will affect accuracy of the dispensed volume
Arm fatigue when having to move slowly for fear of dripping with a wobbly pipet
Contamination of samples and/or work surfaces by inadvertent drops
1. Less worry of strain in your wrist from constant jamming  
In keeping with VistaLab's mission to improve ergonomics for lab scientists, Wobble-nots were created to decrease insertion force into the pipettor's nozzle. Typically, high force/jamming is required with a "standard" serological pipet to get it far enough into the nozzle to stick. This causes discomfort and stress on user's wrists and if it isn't jammed in far enough, there is significant wobbling, which means dripping of liquid. The unique Wobble-not plug end is tapered, so there is much less pushing needed to insert Wobble-nots into the pipet controller and maximum stability is achieved with much less force.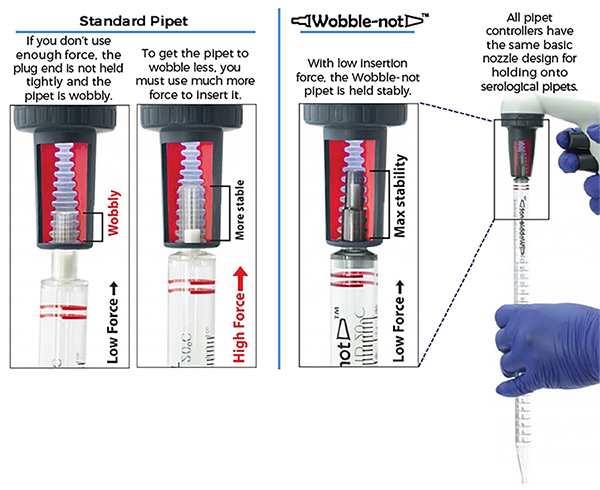 2. Less worry of drops that will affect accuracy of the dispensed volume 
After dispensing your desired volume into a tube or plate, an unstable standard serological pipet will continue to drip liquid causing an unintended volume to enter the vessel. Those additional drops can lead to inaccuracy in your results. The Wobble-not plug end tapered design makes it easier to insert, but the 2-tier design makes it more stable i.e. less wobbly. Making the 2 points of contact with the Wobble-not as opposed to just  1  with standard serological pipets key in reducing the drip and ensuring accuracy.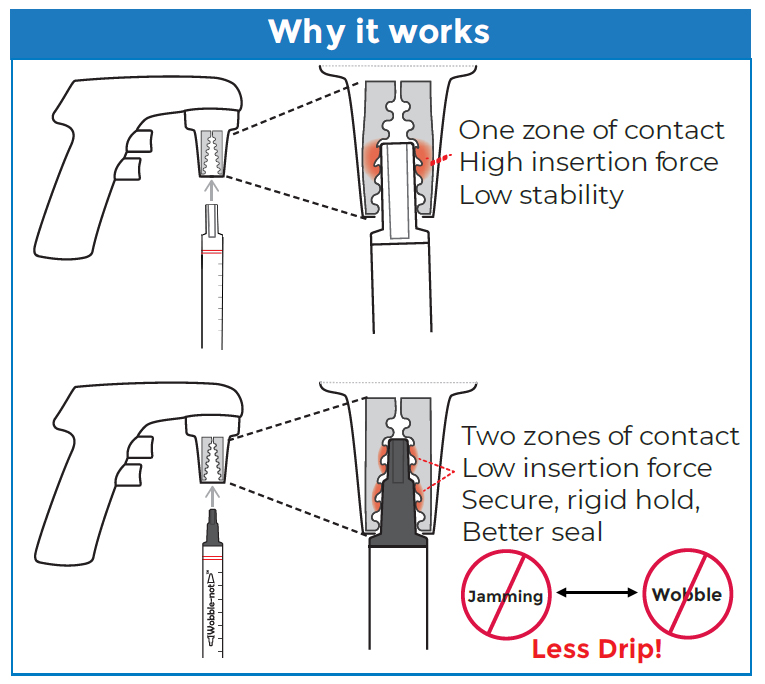 3. Less worry of arm fatigue for fear of dripping with a loose pipet 
The lack of stability in a standard pipet causes you to move your pipet very slowly from tube-to-tube or well-to-well, etc. to try to avoid drips. Not only does it take up unnecessary time but it also creates arm fatigue after long periods of remaining in the same static position. Not to mention the added weight of the controller and pipet adding to the fatigue. Wobble-nots save you time and energy allowing you to move comfortably without the fear of dripping.
4. Less worry of contamination of samples and/or work surfaces by inadvertent drops

Drops are also a possible source of contamination when they inadvertently fall into your tube, well, or working surface. The secure hold gained from a Wobble-not's 2 points of contact design limits the risk of contamination by preventing drops from forming at the tip of your pipet. 
All in all, pipetting with Wobble-nots means much less worry and easier pipetting. 

The unique innovative design of Wobble-not serological pipets allows you to work faster and easier, without the constant worry of drip. The benefits are multifold with a seemingly small change in the design of a lab tool that had been the same since its initial conception!  
Less jamming. Less wobble. Less dripping! 
See the difference. Feel the difference.
See what a fellow scientist says:
Literally every lab should be using wobble-not serological pipettes (from @VistaLabTech) pic.twitter.com/ptmSej99x6

— john y (@hkjawn) November 9, 2020
Find the Wobble-not size and packaging you need for worry-free pipetting!
Standard length Wobble-nots  or  Shorty length Wobble-nots
Check out our special online discount for 2022! Click here!
Less dripping for better accuracy and faster pipetting make Wobble-nots an ideal liquid handling partner for ali-Q 2 when aliquoting samples or reagents!