VistaLab is proud to announce that the Ovation Multichannel Pipette has been awarded a Bronze SelectScience® Seal of Quality (SOQ), making it a hat-trick for our popular pipettes. To date, only 3 other companies have achieved this level of SOQs. We thank everyone who took the time to write a review, which also helps fellow scientists in making purchasing decisions.
Seals of Quality recognize the top 0.1% of products that consistently receive the highest customer review ratings on leading laboratory technology website SelectScience® and are designed to help scientists worldwide see at a glance the instruments and services their peers love the most.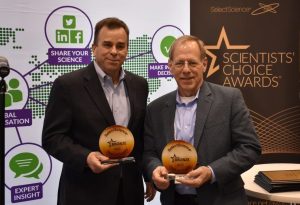 Arif Butt, CEO and Co-Founder of SelectScience, and Editor-in-Chief and Publisher, Kerry Parker, hosted a special ceremony at Pittcon 2020 in Chicago, U.S.A., to present these awards. VistaLab's President, Jim Orcutt, and Director of Sales, Keith Brodnick, attended the party to collect the Bronze Seal of Quality for the Ovation® E8 & E12 Electronic Multichannel Pipettes.
The latest award follows VistaLab's success last year, when it won two Seals of Quality for its Ovation® ESC Electronic Single Channel Pipettes and its MLA Single Channel Pipettes respectively.
There are four levels of Seal of Quality: Platinum, Gold, Silver and Bronze. To be awarded a Bronze, a product must have 50 or more reviews from scientists globally, with an average rating above 4 stars out of 5. Ovation ESC and Ovation Multichannel pipettes have both attained average ratings of 4.6 stars out of 5. MLA pipettes are consistently highly rated with an average of 4.8 stars out of 5.
"I would like to take this opportunity to thank all our reviewers around the world for sharing their valuable opinions and also to congratulate VistaLab, who have been recognized by the people who matter most, their customers," said Kerry.
Read Product Reviews for our award-winning pipettes on SelectScience.
For more about the Seals of Quality, see the SelectScience website
Write a review for your favorite VistaLab product here.