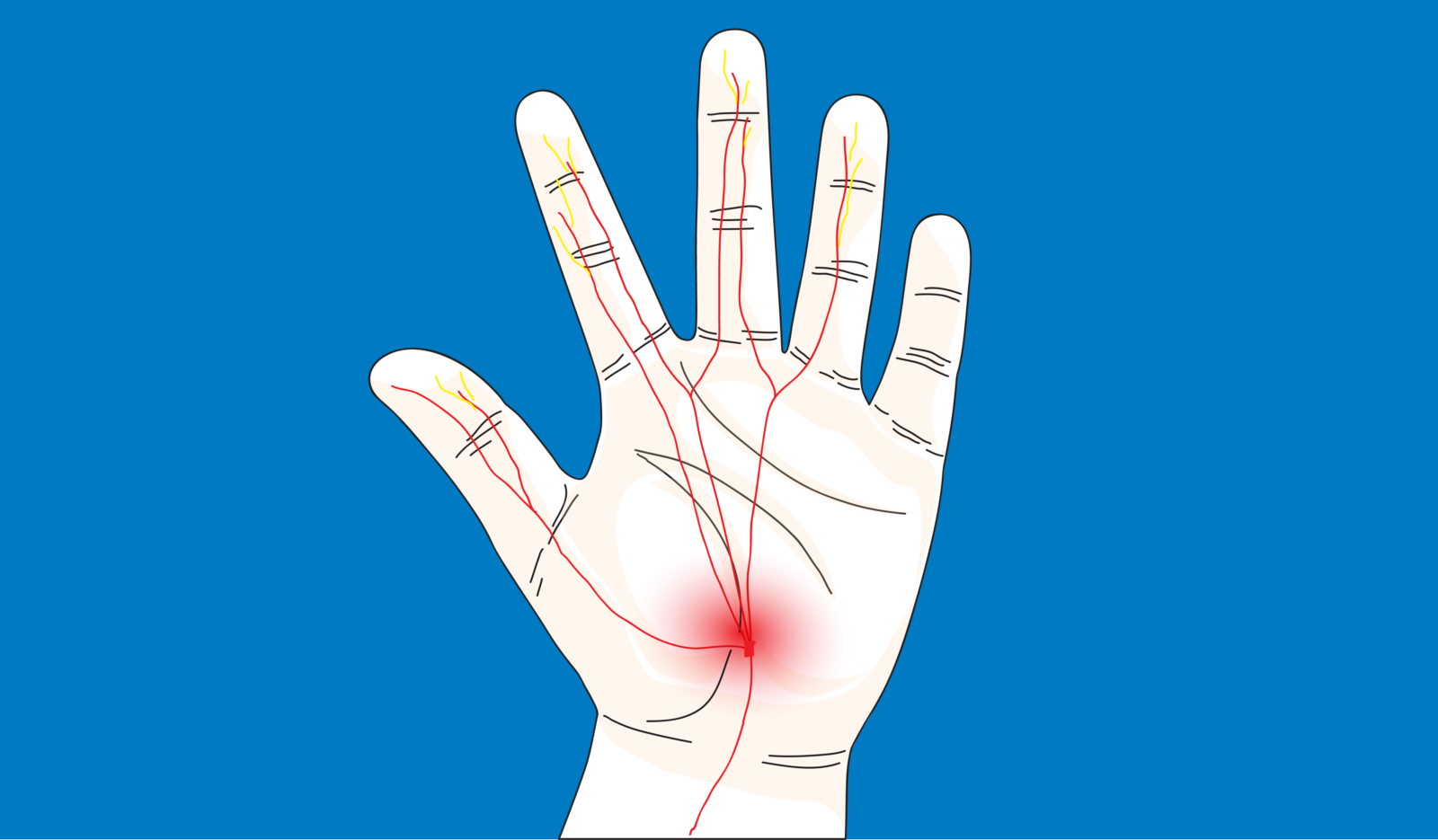 ---
The strain of triturating cells using normal pipettes caused a repetitive strain injury in my right hand… to the point that I could no longer perform simple tasks like writing with a pen or pencil. My doctor told me to stop pipetting…"
---
Carpal tunnel syndrome, tennis elbow, and tendonitis are just some examples of repetitive strain injury (RSI) that can result from extensive manual pipetting. Get ahead of these conditions before they begin to compromise your ability to do your job. Overusing your hands, neck, and shoulders through repetitive movements, exerting unnecessary force, or maintaining awkward body postures increases your chances of developing an RSI. The pain may seem minor at first but if left unaddressed can lead to serious and even chronic injury.
How to prevent RSIs from taking over:
Make sure your work environment is comfortable. Ask your employer for a Risk Assessment Test for your lab workspace to help prevent work-related RSI.
Maintain good posture – Learn how to pipette properly.
Relax your arms and hands.
Avoid static positions.
Take short, regular breaks.
Early signs of developing RSI from pipetting are:
Pain, aching, or tenderness
Stiffness
Throbbing
Tingling or numbness
Weakness
Cramps
Be aware of how your body is feeling.
How to treat RSI from pipetting:
Speak to your employer. They may have solutions to improve your symptoms.
Identify the pain causing motion and adjust your pipetting process.
Use ergonomic pipettes when possible.
See your doctor if pain persists. They can offer treatments or refer you to a specialist.
If you begin to feel these initial symptoms, be proactive and try to identify the repetitive motion causing the pain. Sometimes the solution is as simple as elevating your chair rather than raising your arm all the way up to pipette, or just taking more frequent breaks.
Preventative Pipetting Measures – Be proactive not reactive.  
Recommendations from ergonomists for: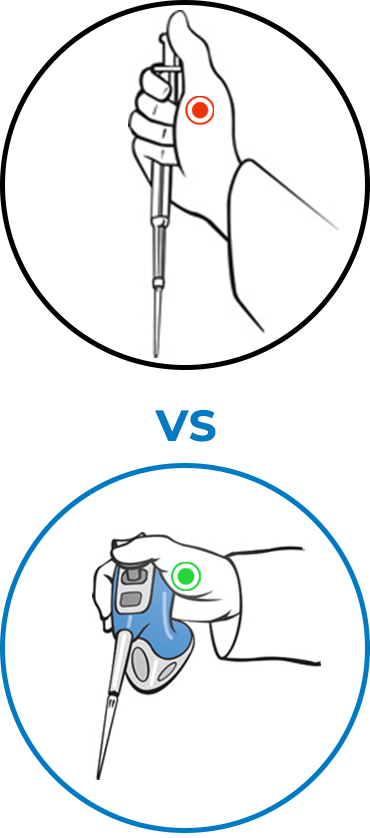 Hand and thumb pain – Pipetting with a tight grip or jamming tips on with a clenched fist will result in hand fatigue and eventually nerve damage.
Use a loose, relaxed grip to increase hand strength and improve endurance and productivity.
Use a rounded plunger and hand hooks.
Use gentle push buttons or low force tip ejection buttons to reduce thumb movement and strain.
Ovation pipettes have low plunger force and gentle push buttons. Adjustable hooks allow for a custom fit to relax the hand and reduce the holding effort for right and left handed users. When inserting tips, an audible "click" confirms that the tip is seated properly and additional jamming effort is not needed. The contoured shape provides maximum stability and minimal contact pressure for the hand.
---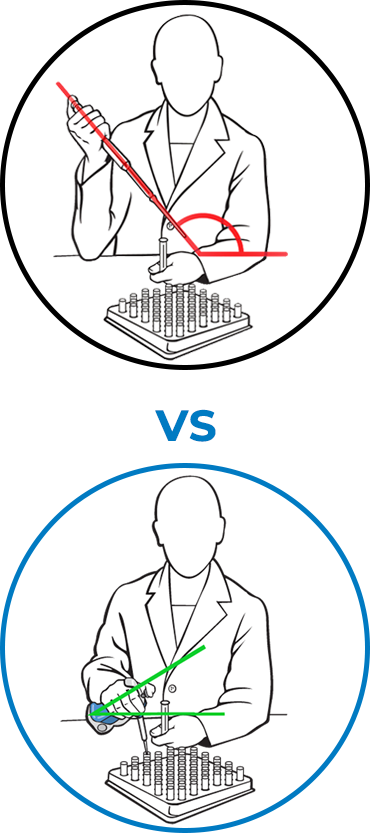 Wrist pain – Stress is created on the tendons as they are bent repeatedly and placed in unnatural positions.
Avoid twisting the forearm to reduce pressure on the carpal tunnel.
Avoid bending wrist and awkward wrist positions.
Avoid turning your wrist over in a supinated position, keep your wrist vertical or for best results keep your wrist in a pronated position.
Keep neutral relaxed position while working.
Ovation pipettes allow your wrist to remain in a pronated position and neutral range of motion throughout all pipetting operations, eliminating repetitive twisting of the forearm.
---
Arm and neck and shoulder strain – Traditionally shaped pipettes require your arm to remain in a static position reducing blood flow to muscles – causing stress and fatigue.
Your arm's elevation should remain low, minimizing stress to the elbow, shoulder, and neck.
Avoid rolled shoulders or hunched back, keep shoulders in an upright position.
Make sure your work surface is an appropriate height.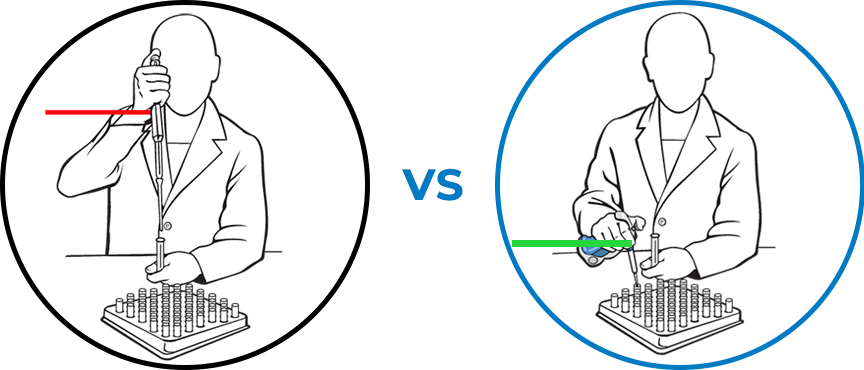 Ovation pipettes unique shape dramatically reduces the elevation required to pipette (reduction between 8-10 inches). The weight added to your neck and shoulder from supporting your arm is decreased (reduction of arm weight by 9+lbs).  Ovation pipettes naturally improve your posture and body position.
---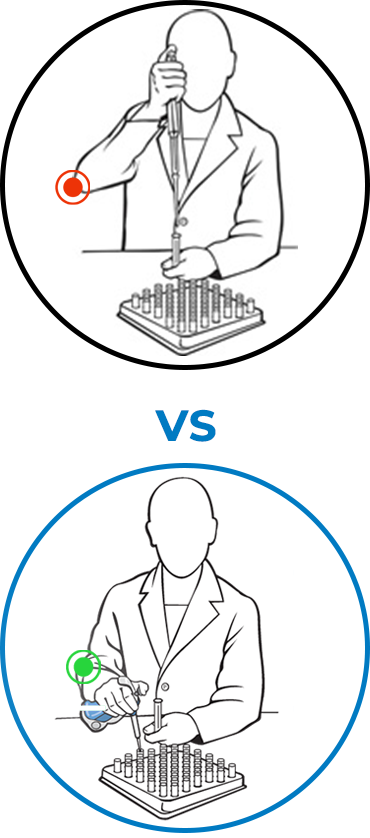 Elbow pain – Traditionally shaped pipettes require the elbow to extend fully while pipetting; this can lead to tennis elbow over time.
Keep your elbow close to the body in a neutral position and avoid the "winged elbow" position.
Avoid resting or leaning your elbow on hard surfaces while pipetting as this may increase the chances of tennis elbow.
Lab supplies such as tubes, trays, and beakers should be placed within easy reach and access.
The Ovation pipette shape eliminates the "winged elbow" and limits the extension of the arm, keeping the elbow as close to your body as possible.
---
Ovation Ergonomic Pipettes will help prevent RSI
The Ovation Ergonomic Pipettes offer solutions recommended by ergonomists. Find the model that suits your needs:
Manual Pipettes
Electronic Pipettes
Your health matters. Long hours of pipetting may be inevitable in your lab but you shouldn't put your career at risk to get the job done. RSIs cause fatigue, pain, and adversely affect technique. Good pipetting techniques are the basis for reliable and reproducible results. Switch to Ovation, the only truly ergonomic pipettes, before the pain begins, compromises your performance, and affects your results and long term health.
---
Margarete's cautionary RSI story:
As a pluripotent stem cell researcher, I routinely spend a lot of time dissociating and passaging cells. The strain of triturating cells using normal pipettes caused a repetitive strain injury in my right hand. The pain got worse and worse over time, to the point that I could no longer perform simple tasks like writing with a pen or pencil. My doctor told me to stop pipetting, but of course, that is not a feasible solution in my profession. He then suggested using ergonomic pipettes instead of regular ones. I switched to Ovation M Manual pipettes and after only one week of using them the pain substantially reduced. The pain in my right hand is now completely gone and I feel normal again. These ergonomic pipettes are not a compromise in any way. Pipetting is accurate and reproducible. The tube opener in the bottom is also quite useful. I would suggest heavy pipettors to switch to ovation BEFORE they develop strain injuries the way I did."

-Margarete Diaz Cuadros, Brigham and Women's Hospital
---