VistaPoint™ Program
---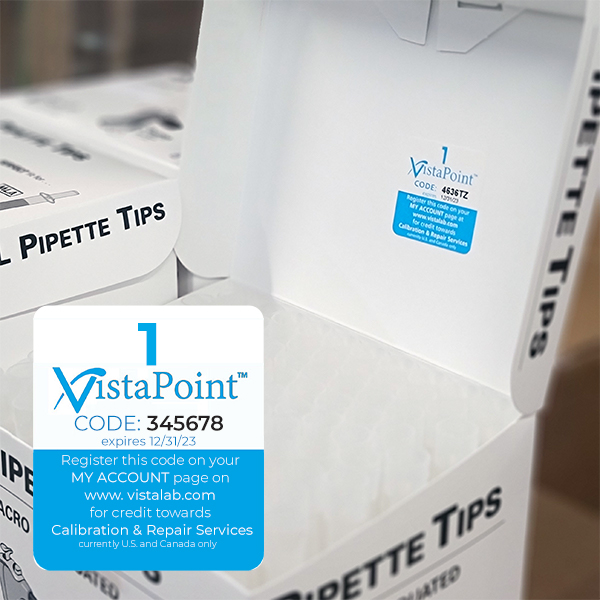 Earn VistaPoints every time you order VistaLab pipette tips. Direct or through a distributor.
Redeem your points on any type of Calibration and Repair order.
How does it work?
---
 Buy VistaLab

 

pipette tips

 and find VistaPoint stickers attached to every box of tips you receive.

Save stickers & Login to My Account to Register VistaPoints. They are automatically converted to $ credit for Calibration & Repair.
When placing orders for Calibration and Repair, apply your VistaPoint credit during checkout.
Is it true that I can get free service for my pipettes?
---
If you have enough VistaPoints credit to pay for your entire service order, you also get free shipping for your order! If you don't have enough VistaPoints to receive free service, you can still use the points you have and just pay the difference.
How much is each VistaPoint worth?
---
The point value depends on the tips purchased and is noted on each sticker.  Points correspond to the following in USD:
1/2 point = $2.50
1 point = $5.00
2 points = $10.00
Get the best care for you pipettes 
---
Take advantage of the VistaPoint program to ensure you receive the best care possible for your pipettes. Find out what makes up a high quality calibration and repair service provider and why you should choose VistaLab, the manufacturer of your pipettes for superior service and optimal performance for your pipettes.
The perfect fit for your pipette
---
VistaLab tips are designed to fit MLA and Ovation pipettes perfectly. If you constantly purchase our tips it only makes sense to use the free VistaPoints you get in each box!
Testimonial
---
"Our favorite Pipette! Great product with great service!"
"The Ovation ESC Pipettes have been used in our laboratory for 15+ years. They are very reliable and accurate. The design is very ergonomic for repetitive use. VistaLab Technologies has provided excellent after purchase support, with excellent technical support. They allow points to be accrued for purchases that can be used for repair or calibration of pipettes as needed."
-Christine Jones, Blood Assurance Inc
---