4 Considerations When Choosing Serological Pipets
When it comes to pipetting, many researchers are familiar with concerns over wobble, drip, RSI, and contamination. Learn how these can be avoided using Wobble-not serological pipets.
---
Read what customers are saying
No more drippy pipettes. Would never go back to conventional serological pipettes.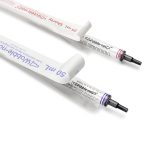 I love these Wobble-not pipettes. They don't leak or drip. I aliquot FBS and other reagents a lot for our lab use. On top of that, I use these to transfer supernatant to ultracentrifuge tubes. Together with Ali-Q2, I don't
…
I love these Wobble-not pipettes. They don't leak or drip. I aliquot FBS and other reagents a lot for our lab use. On top of that, I use these to transfer supernatant to ultracentrifuge tubes. Together with Ali-Q2, I don't even have to weigh my tubes anymore as they're perfectly balanced. Also, with Ali-Q2, I use these a lot to transfer media to multi-well plates.
Application Area: Exosome isolation, aliquoting FBS, cell culture
Read more "No more drippy pipettes. Would never go back to conventional serological pipettes."
Cherrie Sherman
Icahn School of Medicine at Mt. Sinai
Wobble-not Serological Pipets
---